Our friendly team of fully trained Plastic Surgeons here at Horizon Plastic Surgery are forever trying to make your pathway through your surgical procedure easier and more streamlined. We have all had family members or personal experience of surgery "from the other side" and know it can sometimes be a confronting and confusing experience. To try and ease your concerns and help you make decisions we have added to our website a series of Opinion Pieces from leaders in their field. This will be generic information and so may not be specifically relevant to you however the feedback we have received from patients has been extraordinary and so we will continue to update and inform you in order to make your time with us as stress-free as possible. We encourage you to select the procedure/s which interest you and read on.
Please note that the purpose of these topics is to educate and guide you in your decision making and so it should not be confused for an extensive photo gallery of before and after pictures. The policy at Horizon Plastic Surgery is to only use patient photos in an educational capacity on our website. Of course if you want to see more photos that will be more specific to your personal requirements we would be more than happy to show these to you at your appointment.
If you need more information please feel free to contact us on phone 03 8560 2999 or email enquiries@horizonplasticsurgery.com for an appointment.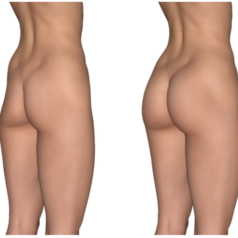 The latest booty aesthetic to hit our shores
As times change so do the principles of which type of body looks more cosmetically attractive and beautiful. Through the ages different body shapes and proportions have been valued more highly than others and this ideal aesthetic body continues to evolve. This is also highly regional and dependent amongst other things, on genetics. Read more
The following is generic advice for those of you who are contemplating having breast augmentation. Read more
Breast augmentation +/- a lift
Are your breasts a bit saggy? Are you considering a breast augmentation? Unsure about whether you need an augmentation or lift of both?? Then read on as this Opinion Piece is for you. Read more
What are we aiming for in Breast Aesthetics? Read more
Is this a moral dilemma?
This is an issue which tends to make hearts beat faster and voices raise. Read more
Does scarless surgery exist?
The short answer to this question is no however this need further exploration. Read more
What is normal scar maturation?
I think the one thing that all surgeons would agree on is that the single
most critical factor when it comes to scar improvement is time.  Read more
What can you do to improve the scar?
Every plastic surgeon has a different approach to scar management. Read more
Consequences of infection
So why are we so paranoid about infection around breast implants?? Read more
What's the big deal?
The short answer it that if you need radiotherapy for your breast cancer treatment it changes the options that you have for reconstruction. Read more