Price: From $12/thread
MINT = Minimally Invasive Non-surgical Thread
Mint Mono PDO threads are a colourless bioresorbable polymer which undergoes complete hydrolytic degradation.
IN OTHER WORDS = Mint threads are an absorbable suture used in soft tissue for skin tightening.
Once inserted in the skin, the MINT threads stimulate the production of collagen, elastin and hyaluronic acid – the results being firmer, tighter, rejuvenated skin. Mono PDO threads restore elasticity and vitality to the skin, as well as brightening its tone and improving the appearance of minor wrinkles. The embedded threads gradually dissolve over a period of three to four months. Results can take 6 – 12 weeks to see the final outcome, however, the rejuvenation of the skin and subcutaneous tissue can last 9 – 12 months. *Results may vary per patient.
The most common areas it is used in are –
---
Neck
Jowls
Jaw line
Naso jugal folds
Nasolabial folds
Crow's feet
Undereye area
Eyebrows
Cheeks
Marionette lines
We do advise patients this treatment is NOT PAINFUL – but not pain free. There are needles involved and some discomfort may be experienced. Our experienced practitioner will apply a topical numbing cream 30 minutes prior to commencing – to ensure minimal discomfort during treatment. Treatment time can vary depending on the number of threads and area.  You can expect the treatment to take 30 – 45 minutes in addition to the numbing time. Normal reactions post treatment include; bruising, swelling, tenderness and small lumps. This may vary patient to patient and usually resolves in approximately two weeks.
More information below (click to enlarge) :
---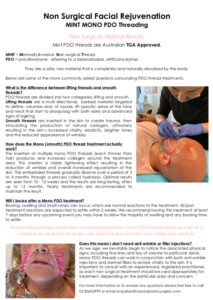 ---
BEFORE (Left) AND AFTER (Right) MONO PDO THREAD TREATMENT
Individual results may vary as any invasive procedure carries risks. This should be discussed at your consultation with you qualified health practitioner. The below images are true and accurate.
The above patient was treated with Mono PDO threads to the under eye/tear trough, crows feet, frown and forehead.
Request an Info Pack to be sent to you